Yesterday I received a parcel. I was quite surprised, because I didn't expect anything and the postman wanted to encash 13 Euro for the duty guys. I didn't believe my eyes, when I saw the senders address: the blacklisted Firebird Arts & Music. You may remember I wrote about that last JULY. I orderered that in March 2008. They shipped it on the 6th of January 2009 and it arrived yesterday !!!!!
That makes 11 month! And as already mentioned, they never replied to any of my mails.
And now the content: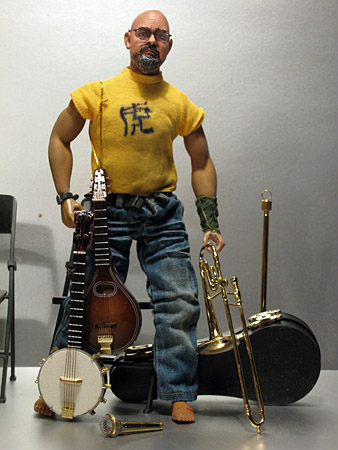 The mandolin the banjo and the trombone are nice, but meanwhile, after waiting for ages, I got all this instruments from other sources. The microphone looked good on the website, but it turned out as a piece of rubbish. But the most annoying matter are the bass guitars. On the website they were specified as 1/6 items. But you see it on the picture: they are at least 1/5 scale. Those guys deal a lot with 1/6 stuff, what makes a mistake like this more than only unacceptable. This company really sucks.
They will stay on my personal blacklist forever!