---
Recently I found some 1/6 guitars on ebay.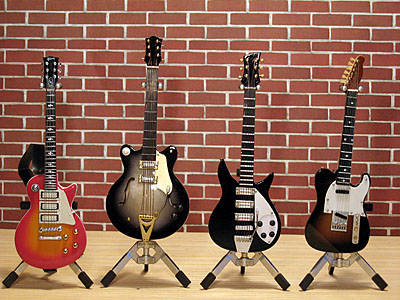 The first one it the Ace Frehley Les Paul in Heritage Cherry Sunburst finish. It's from the Resaurus PickUps line (2000) Would be great to find the Epiphone B.B. King Lucille, the B.C. Rich Mockingbird and Warlock and the Gibson J-45 from that line. So if you see those guitars somewhere, let me know.
The second guitar looks like a Gibson ES355. The third one looks like the John Lennon Rickenbacker 325. For this one I will do the Rickenbacker logo on the headstock. And the last one looks like a Fender Telecaster.
---

Here are my ideas on Olaf Gustavson. Olaf is not half as cool, as he likes to be. He still lives in his mother's house, what he tries to keep as a secret, because it's not very cool. Olaf is a single and he has no good luck with the ladies. And he drops a clanger every day.
Olaf is a" Star Wars" fan. He spends a lot of time online in chat rooms and on message board. He likes to visit Star Wars Conventions as well. Maybe he drives a motorbike for some coolness reasons, but he's not what you would call a real biker. In technical maters his fingers are all thumbs. When he got problems with his motorbike, a friend (Willie) helps him. About his occupation I'm not sure. One idea is, that his family has money and that his younger brother is the manager of the family business.
Do you agree?
Any other ideas?
Maybe a profession for him?
What instrument does he plays?
What kind of music does he like?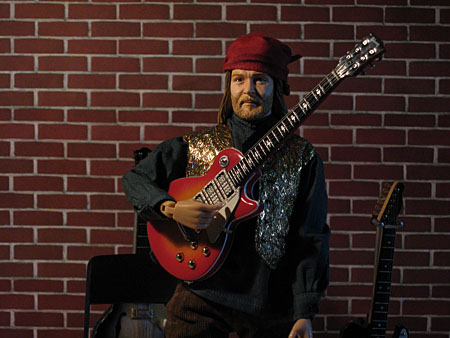 Hier sind meine Ideen zu Olaf Gusavson. Olaf ist nicht einmal halb so cool wie er gerne sein möchte. Er lebt noch immer im Haus seiner Mutter, was er versucht geheim zu halten, weil das ja nicht so besonders cool ist. Olaf ist Single und hat kein großes Glück mit Frauen und tritt gerne in diverse Fettnäpfchen. Er ist Star Wars Fan und verbringt viel Zeit online in Chats und Foren. Auch besucht er gerne Star Wars Conventions. Vielleicht fährt er ein Motorrad, in erster Linie weil er glaubt, das sei cool. Aber er ist nicht wirklich das, was man einen Biker nennen würde. In technischen Dingen hat er zwei linke Hände. Wenn er Probleme mit dem Motorrad hat, hilft ein Freund (Willie). Was den Beruf betrifft, bin ich nicht sicher. Eine Idee ist die, dass seine Familie Geld hat und dass sein jüngerer Bruder das Familienunternehmen leitet.
Stimmt ihr zu?
Oder gibt es andere Ideen?
Vielleicht ein Beruf für ihn?
Welches Instrument spielt er
Welche Musik mag er?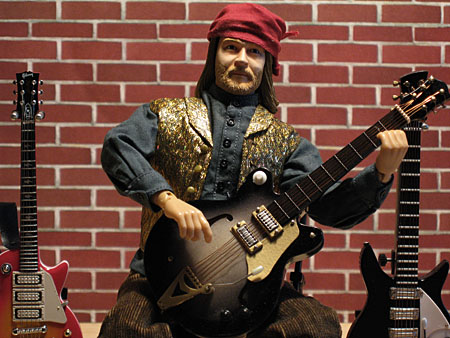 ---
---
In my early twenties I once saw a folk band that used dulcimers. Well, I must have been deeply impressed by that concert, cause I built my own dulcimer after that. Here is a little picture from the year 1984 showing me and the dulcimer in my folky days.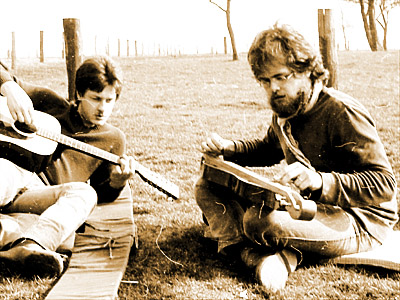 So for that reasons I was really glad, to find a scale dulcimer on ebay US. The scale is perfect and it's a nice addition to the collection of more uncommon music instruments. To give an example of the use of a dulcimer: Joni Mitchell accompanied herself on the dulcimer on her album "Blue"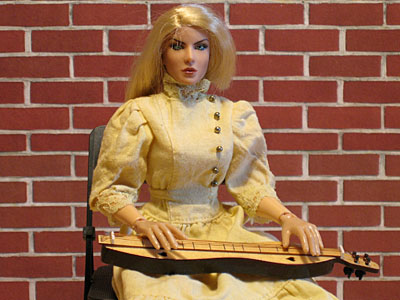 ---
---
Behind the Curtains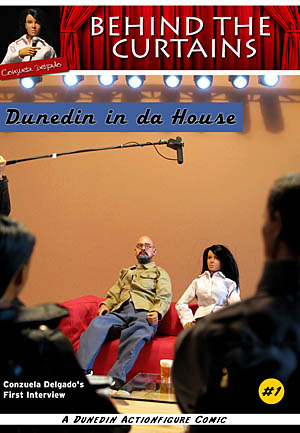 The new comic is online now. It's a prequel on the upcoming story of the adventures of a rock band. I will introduce a new character every Saturday to the discussion. So here you can take impact on the figures of the story. I will introduce 9, maybe 10 characters. But only four will make it into the band. Who? That will be your decision.
The first character is Matthew Doyle. The introduction of the figures can be found in the category characters.
I will do the entries for this game in English and in German. It's up to you, which language you prefer. I will try to translate the important facts, to make them available for all. Have fun.
Der neue Comic ist jetzt online es handelt sich um ein Prequel zu der in Vorbereitung befindlichen Geschichte über die Abenteuer einer Rockband. Ab heute werde ich an jedem Samstag einen neuen Charakter vorstellen und zur Diskussion stellen. Ihr könnt hier also Einfluss auf die Figuren der Geschichte nehmen. Ich werde 9, vielleicht auch 10 Charaktere vorstellen. In die Band kommen dann vier. Welche, das entscheidet am Ende ihr.
Der erste Charakter ist Matthew Doyle. Die Vorstellung der Figuren findet ihr in der Kategorie Characters .
Die Einträge zu diesem Spiel werde ich zweisprachig in Deutsch und Englisch vornehmen. Es sei Euch überlassen in welcher Sprache ihr schreibt, ich werde versuchen alle wichtigen Facts zu übersetzten, so dass sie allen zugänglich sind. Viel Spaß.
---

Here are my ideas on Matthew Doyle .
Matthew studied 14 semester philosophy and quit without a degree. Today he works in a small music store. Through his job he knows all the other musicians. Some more, some less.
He is married.
As a musician he's a good technician, but his music (like almost everything else in his life) comes from his head. He likes alternative Rock and Jazz as well. His favourite guitar player is Mark Knopfler. In discussions he tends to be a dogmatic smart ass.
Do you agree? Any other ideas on Matthew?
Here are some unanswered questions on him.
How is the relationship to his wife?
Are they still in love?
Any ideas about his wife?
Maybe someone likes to write a little draft about her.
Has he any hobbies?
What else?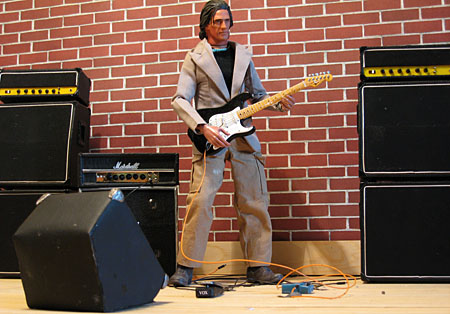 Hier sind meine Ideen zu Matthew Doyle.
Matthew studierte 14 Semester Philosophie, brach sein Studium aber ohne Abschluss ab. Heute arbeitet er in einem Musikgeschäft. Durch die Arbeit sind ihm die anderen Musiker bekannt. Einige mehr andere weniger.
Er ist verheiratet
Als Musiker ist er ein guter Techniker, aber seine Musik kommt aus dem Kopf (wie fast alles in seinem Leben) Er mag Alternative Rock und auch Jazz. Sein Lieblingsgitarrist ist Mark Knopfler. In Diskussionen neigt Mat dazu rechthaberisch und klugscheißerisch zu sein.
Stimmt ihr mit mir überein? Andere Ideen zu Matthew?
Hier sind noch ein paar unbeantwortete Fragen
Wie ist die Beziehung zu seiner Frau?
Are they still in love?
Irgendwelche Ideen zu seiner Frau?
Vielleicht hat ja jemand Lust einen kleinen Entwurf zu ihr zu schreiben
Hat er irgendwelche Hobbys?
Was noch?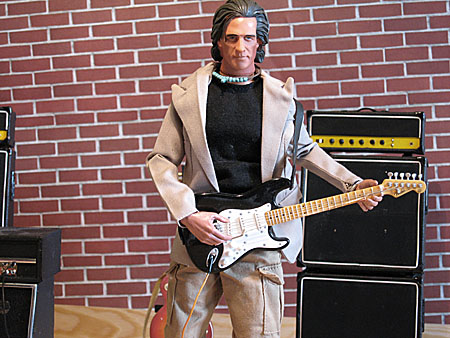 ---
---
---