Here are my thoughts about the next character. Yǒng's family comes from Hong Kong. A scholarship brought him to the local art school, where he experimented a lot with different art forms, trying to bring theatre, avant-garde movie and music together into new forms. As a musician he has the reputation of being a child of prodigy. Give him any instrument and after some minutes he will be able to play on it. Today Yǒng is busy as a composer for movie and television scores and sometimes he works as a guest conductor. I think he has a girlfriend, she's from Asia as well and plays cello in an orchestra and in a string quartet. Maybe Yǒng has a secret. What can it be?
Do you agree?
Any other ideas on Yǒng?
Is he a withdrawn artist or still the friendly guy next door?
What kind of music does he like?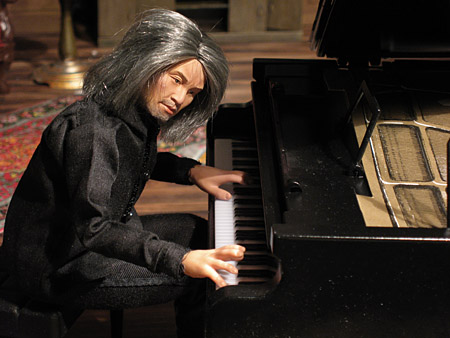 Hier sind meine Gedanken zum nächsten Charakter. Yǒngs Familie stammt aus Hongkong. Ein Stipendium brachte ihn an die lokale Kunsthochschule, wo er mit unterschiedlichen Kunstformen experimentierte und versuchte Theater, Avantgardefilm und Musik in neuen Formen zusammenzubringen. Als musiker steht er in dem Ruf ein Wunderkind zu sein. Gib ihm ein Instrument und nach ein paar Minuten kann er darauf spielen. Heute komponiert Yǒng Musik für Film und TV und gelegentlich arbeitet er als Gastdirigent. Ich denke er hat eine Freundin, die ebenfalls aus Asien stammt. Sie spielt Cello in einem orchester und einem Streichquartett. Vielleicht hat Yǒng ein Geheimnis. Was könnte das sein?
Stimmt ihr zu?
Andere Ideen zu Yǒng?
Ist er ein abgehobener Künstler oder immer noch der nette Junge von nebenan?
Welche Musik mag er?