---
---
Last weekend the flea market season opened in my hometown. So I switched my attention into onesixth mode and went for a walk. I found two nice items. The first one was this rocking chair.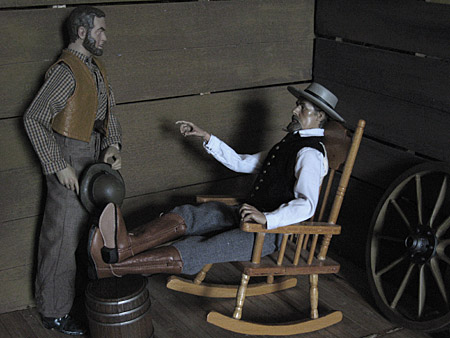 I thought, it would fit best into a Western setting. So I did a quick set improvisation for it. It was a good change as well, to give two of my Sideshow extras a first appearance.
---
When I was clearing my collection shelfs. I found some little spiders, that came along with the 6 Inch Mc Farlane Alice Cooper. I thought they would look great in an 1/6th scale context. So I took some quick pictures with my MiniMe and Anna. Anna is wearing a t-shirt from the Beck collection. The mask on the wall is an 1/12 Mc Farlane item as well.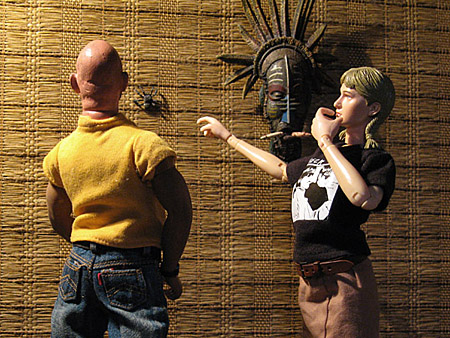 ---
On one of the German boards we are talking at the moment about scale matching animals. So I did some shots of my rats, my cats and my snake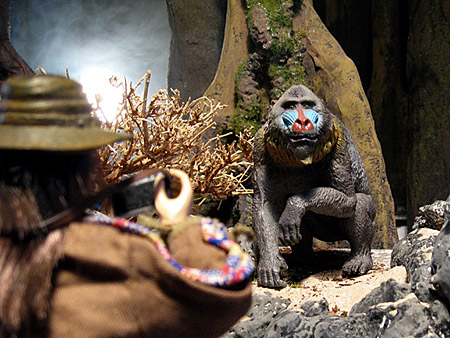 And about a year ago I bought this mandrill for only 2 Euro in the souvenir shop of the zoo in my hometown. A few days ago I shot this little chapter that I call "Mandrills in the Mist".
A Triad Toys girl is in the scene as well.
---
---
---
---
---
Yesterday I spend the day on the ActionFigurado in Duiven. As always it was nice to meet the usual suspects and have some talks about the hobby with other toy maniacs.
Here is a picture of my hunting results.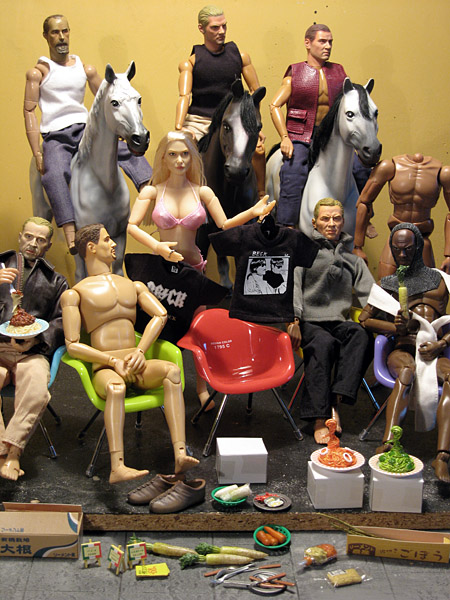 I bought three horses, that will be used in the Roman project. Some bodies for custom figures (5 Dragon, 1 BBI, 1 Hot Toys, 1 Sideshow). I like the head sculpt of the Sideshow civil war figure. So, good luck for the guy, he will keep his head on his shoulders and will probably have some appearances as an extra. The unlucky other guys will get decapitated, and get actors heads. I also bought a Triad Toys Otaku body. This time the girl has a more realistic head sculpt. I didn't like the Manga look on the first Otaku bodies. What else? A Samuel L. Jackson lookalike head, 5 designer chairs for one of my future comic locations, a nice leatherjacket two Beck t-shirts, some cheap workaday clothes from the bargain boxes, a chain hood, ancient shoes, some Re-Ment sets with vegetables and the action-food spaghetti set (That's a nice one – can't wait, to built a mafia mobster eating his pasta)
---