---
Here is the next location.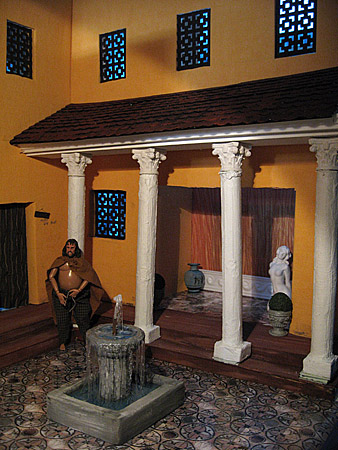 I found the mural painting of the three Graces on the internet.The flowers were already used in my jungle works.
The "Occupata" signs are on the wall, what means, all lupas are busy. So the young legionnaire has to wait…
the fountain isn't finished yet. The water is simulated with modelwater and glue
The floor is based on pictures I took in Ostia Antica. I did a draft in photoshop and printed it at posterjack.com
I bought the little vase in Rome. The Venus was a cheap ebay find
The fresco is behind a curtain now. i think it's too noble for such a location.
So, as you see in the Caesar pics, I can use that roon twice.
---
---
---
Over the last two weeks I had a lot of work to do and didn't find much time to work on the Subura project. There is a little progress at the Lupanarium (pictures will follow soon) and I worked on some army props. From now on I like to introduce with every new update characters who will populate the project. Somewhere I read: "Rome didn't had an army, it was the army." So I start with the Army. At the moment I count 17 heads and it's still growing.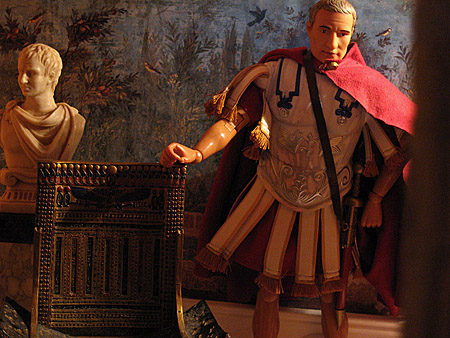 This is the Ignite figure with no changes. I'm not sure whether good ole Gaius will take part in a story, because most of the soldiers are from the first century. For example the lorica segmentata wasn't in use in Caesar's time. So for historical correctness it doesn't go together.
But anyway, today Caesar gets his solo.
The pictures were shot in the inner section of the lupanarium. The fresco in the background is from the Villa di Livia (Ad Gallinas Albas) The mural painting is today located in the Museo Nazionale Romano. There I bought the little poster. The bust is from a souvenir shop in Rome. The marble base is a wooden block covered with self-adhesive foil. The Egyptian chair is from an Asia-odd-shop. That makes me want to do a Cleopatra custom figure as well.
---
---
Here is a little update. Meanwhile I found out, who this goddess is. It is Hebe. Her Roman name is Iuventas. I covered the columns and the base with some self-adhesive foil, to give them a marble look.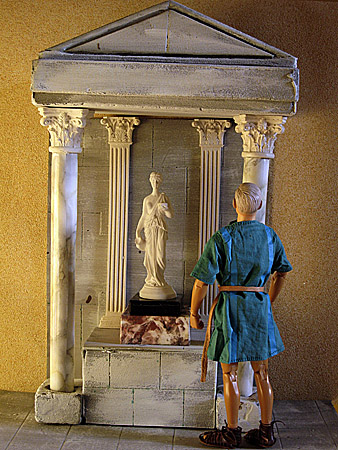 I also worked on some details like the graffiti on the lupanarium wall and on a little "trademark" for this house of pleasure. That little thingy is a pendant, that I found in an archaeological souvenir shop in Rome.
---