The new chapter is online now. The three intro pictures are again a rear-projection, using my monitor in the background. The praetorian is a new one. Usually I take the same three praetorians again and again. After the little Cameo of Timo in chapter 45, the praetorian got a new head. I found it on ebay. I'm not sure, but I think it's a Dragon head. Btw, this head was my first choice for the Thrasea part. That was before I found the Al Pacino head.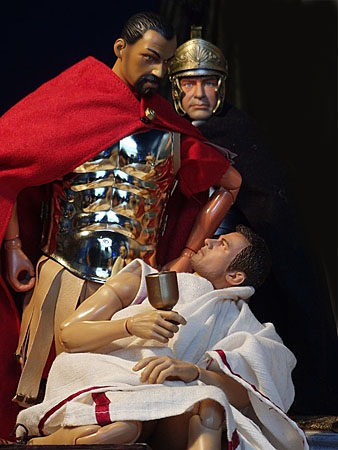 The chapter is about the interrogations of Natalis and Scaevinus. In a cross-cutting between the two interrogations we see that the statements don't match. I like the cross-cutting very much in this chapter and how Tigellinus circuits around Natalis.
One of the dancing slave girls from chapter 42 got a little speaking part. It's the Otaku Blonde by Triad Toys. The wine was of course photoshoped into the picture.
And here are the 4 new pages:
English Version
German Version
You may like to have a look on the last seasons. Here is the content page:
Table of Content
Inhaltsverzeichnis