On the Blacklist: Firebird Arts & Music
Maybe some of you, who visited my homepage, were wondering, that under "Coming soon" was an entry that says: "Music Instruments" and that it never came. The reason was that: I took lots of pictures from my instruments, but I had ordered some more in an online shop. I was in good hope for the arrival and wanted to place the update as soon as the collection is complete. But the order never arrived here.
I do a lot of online orders for the hobby and in 98% I made good experience, but unfortunately there are some crooks out there. One of them, who needs to be put on the blacklist, is Firebird Arts & Music.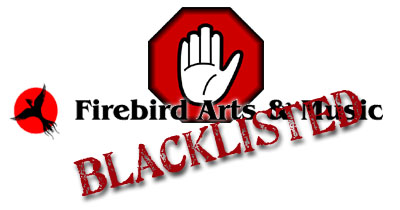 Here is the story:
I placed a 103 $ order at Firebird Arts & Music on 24 March, 2008. Exactly one month later I got an email, telling me, that my order is shipped now. Wow, it took them one month to put my order on the road. The guys are really not the fastest.
Time went by and after 6 weeks I mailed them, telling I still was waiting, asking weather maybe something went wrong. No reply! Two weeks later and two month after their "order shipped" mail I wrote again and asked for a tracing. No reply. Meanwhile I wrote several mails and got no reply at all.
I tried to phone them in their office in Portland Oregon (a long distance call from Germany). Every time, and I tried a lot, there is only a bloody answering machine. I left a message twice, but it's always the same. No reply! Now we are closed to three month and I don't expect to see my order or the money. That's more than only bad customer service. That's a big rip-off.
I wanted to let you know this. And I recommend, not to order at Firebird Arts & Music.