Projekt 52: KW26 – Summer of Love
Summer of Love, da denke ich natürlich an den Sommer 67. Na gut, da war ich erst fünf. Aber dennoch haben mich die 60er vor allem durch die Musik stark geprägt. In meiner Jugend trug ich das Haar lang und stand auf indische Klamotten. Zwar fiel meine wilde Zeit zeitgeschichtlich eigentlich mit dem Punk zusammen, aber auf dem Dorf ticken die Uhren anders. Und so orientierten wir uns damals mehr an den Hippies.
Eigentlich wollte ich zu diesem Thema was richtig großes machen. Es sollte so in Richtung HAIR gehen mit vielen Figuren im Park. Leider sind aber zur Zeit alle freien Flächen in meiner Wohnung mit den nächsten Sets für meinen Rom Comic belegt. So konnte ich dann nur eine kleine abgespeckte Fassung vor dem Monitor inszenieren. Ich hoffe, die Bilder machen euch trotzdem Spaß.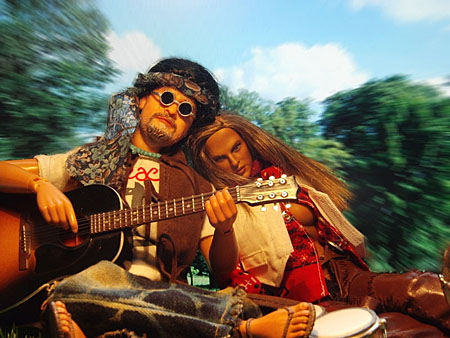 Ein Klick aufs Bild führt Euch zu sechs Bildern aus dem Sommer der Liebe.