Some New Guitars
Recently I found some 1/6 guitars on ebay.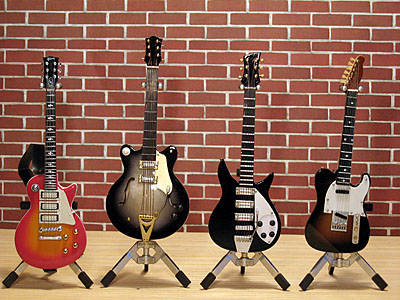 The first one it the Ace Frehley Les Paul in Heritage Cherry Sunburst finish. It's from the Resaurus PickUps line (2000) Would be great to find the Epiphone B.B. King Lucille, the B.C. Rich Mockingbird and Warlock and the Gibson J-45 from that line. So if you see those guitars somewhere, let me know.
The second guitar looks like a Gibson ES355. The third one looks like the John Lennon Rickenbacker 325. For this one I will do the Rickenbacker logo on the headstock. And the last one looks like a Fender Telecaster.