---
---
---
---
---
Over the last year I bought a lot of female stuff and did several bashes. But I focused on the Subura Project, so I wasn't able to show anything. From now on I will bring some pics of my new girls on every Sunday. There is a new category for it, called "Sunday Girls"
And here is the first Sunday Girl: Candy
head: dollsfigure
body: TTL
outfit: dollsfigure
Indian: New Ray
---
8. Niobe
One remarkable development of this year was, that a lot of female stuff hit the market. If you go back a few years, there were mostly the BBI-Cy Girls and Takara-Cool Girls and some military and movie related female figures. And only a few companies like Triad Toys were offering accessories. Meanwhile we can find a lot of new stuff. New bodies, head sculpts and accessories by Triad Toys, Hot Toys, ZC Girl, TTL, Dollsfigure, Crazy Owners…
I bought several new heads, bodies and outfits this year. Next year I will launch a new category called "The Sunday Girls". Here you will find every Sunday some new girls pictures.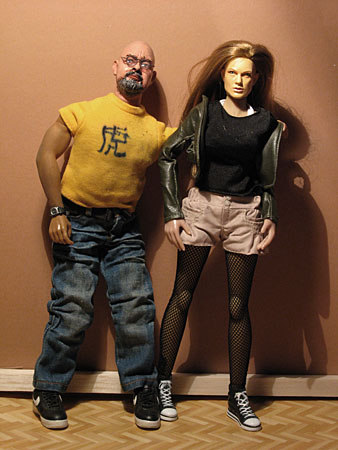 I picked one of the girls as my number 8. This is a Dollsfigure head on a ZC Eve body. The outfit is from ZC Girl as well. She will play the part of Niobe in my upcominc comic adventure Memento Mori.
---