---
Here are the last pictures of the cemetery shootings.
Johnny Depp as Edward D. Wood Jr. in the Tim Burton movie Ed Wood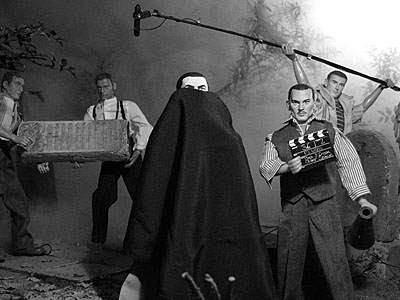 The Johnny Depp head sculpt was done by Chan Ada. I don't know from which film the reference pictures for this sculpt were, but I think it makes a good Ed Wood, even though the haircut does not exactly match the character. For this setting I made an old-fashioned movie camera and a boom.
For the optic parts I used some 1/6 parts from my "bits an bobs box". In a do-it-yourself store I bought two Aluminium and a plastic tube and in a H0-Modellshop I got two small plastic tubes and a small hexagon. The rest is made out of household garbage.
In the scene Ed is shooting his movie "Plan 9 From Outer Space"
---
And the cemetery shooting goes on.
here is:
Peter Cushing as Dr. Van Helsing in Dracula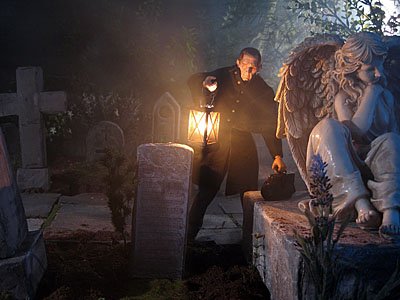 I found that head on the last Actionfigurado in Duiven NL. I ordered the coat at Monkey Depot.
When I work in the same location, I always try to do something different. So the special highlight in this scene was the lantern for me. The body is a H0 construction piece with yellow filters on the sides. Inside there's a little bulb. The wires to the batery were retouched in postproduction.
For the crypt scene I used my temple walls.
---
Here is another simple bash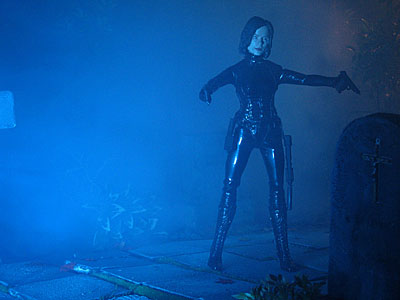 Kate Beckinsale as Selene in Underworld
I found the head on ebay. For the body and clothes I used Cy-Girl Mystere.
I took the pictures in my cemetery diorama. For most of the imiges I used a blue filter in order to come closer to the movie ambience.
---