Here are the last pictures of the cemetery shootings.
Johnny Depp as Edward D. Wood Jr. in the Tim Burton movie Ed Wood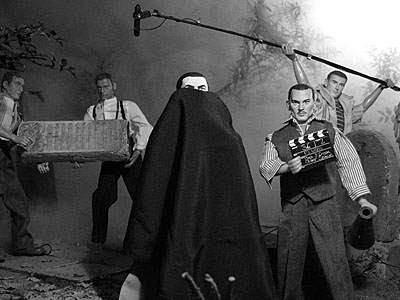 The Johnny Depp head sculpt was done by Chan Ada. I don't know from which film the reference pictures for this sculpt were, but I think it makes a good Ed Wood, even though the haircut does not exactly match the character. For this setting I made an old-fashioned movie camera and a boom.
For the optic parts I used some 1/6 parts from my "bits an bobs box". In a do-it-yourself store I bought two Aluminium and a plastic tube and in a H0-Modellshop I got two small plastic tubes and a small hexagon. The rest is made out of household garbage.
In the scene Ed is shooting his movie "Plan 9 From Outer Space"